Building a Customer-Centric Organization
This is a follow-up to my 1st article from last week.
Changing a culture takes time.
When you focus on the customer it acts as a focal point for the company. Yes, making money is important, but people are motivated by doing things for customers. Also, everyone wants to work for the "best" company and thus we attract the best people, so recruitment costs are lower. Finally the 'Big Brother' (local / State / Federal Government regulators) wants happy customers. Therefore if we please the customers we please the regulators, if we please the regulators this impacts what they allow us to do.
Leaders should understood that to change customer experiences, they needed to change the organization. This can be accomplished in a number of ways by implementing new customer-focused measures, defining new strategies, recruiting customer-focused people, undertaking training and embracing their partners in improving their experience to customers. You can see them change before your own eyes.
Ostrich or Apprentice?
In my first meeting with clients I usually say to them that "We want to change our experience". We spend time talking about their situation and what they are trying to achieve. After this I then raise the thorny issue of customer centricity and its connection to customer experience.
"It's great you want to improve your experience," I say knowing their response to my next question will determine the success of their venture. "You do realize the reason why you are delivering the experience you are today is due to your current organization. Therefore, part of what you will have to do is improve the customer centricity of the organization. I assume you will address this as part of your task, otherwise the changes you make will only be temporary."
It's like time stops still for me. I can almost see them process my challenge and think "Oh goodness, he's right, how can we do that?" I have learned that their next response determines the success of the change, as the conversation can go one of two ways:
Some metaphorically get up from the chair and hunt a convenient bucket of sand to put their head in. These we call "the Ostrich". They really wish I had never mentioned customer centricity. The following conversations are filled with "Yes, but… " and "it's different in our industry," as they twist and turn trying to do everything but address the "pink elephant in the room".
The response we hope for—which doesn't happen very often—is "Yes, we understand that and want to address this as well." This type of person who is open to learn is "the Apprentice". They may challenge the thinking but they do so in an effort to see how robust the argument is. I love these people. I love talking with them and seeing their lights come on as we connect the dots between customer centricity and customer experience.
Advice for "Apprentices"
The concept is a simple one but often ignored. If your organization is "product centric" or "internally focused" you will provide a customer experience that is also "product centric" or "internally focused". If your organization is "customer centric" you will provide a customer-centric experience.
In a customer centricity model, all organizations are on a journey from "Naïve to Natural" in the way they are oriented around the customer.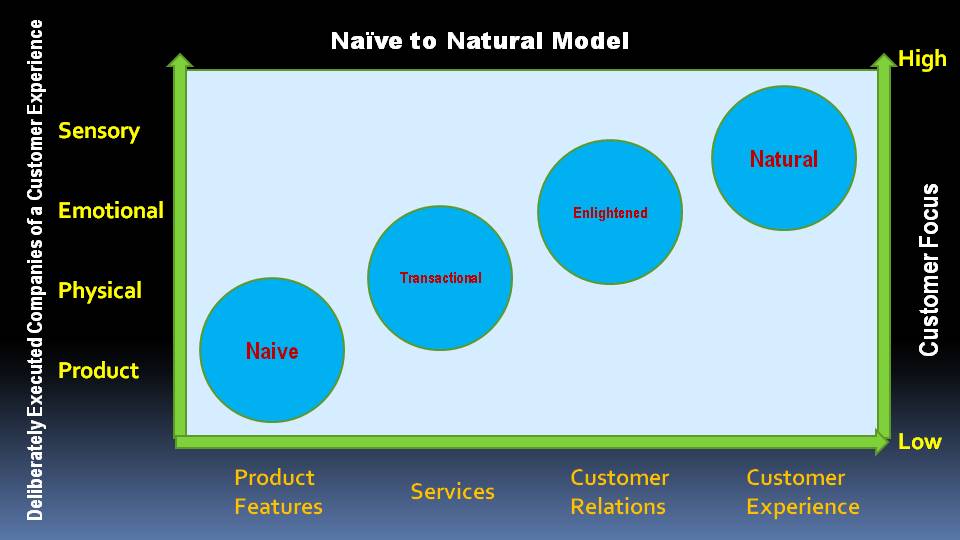 Most organizations are on this journey not because they want to be, but rather they are being forced to. "Back in the day" there were effective monopolies and markets were growing rapidly so organizations didn't need to worry about customers. Today is much different. Competition is global; the internet has commoditized many businesses which is forcing organizations, reluctant in many cases, to focus on the customer experience. This in turn raises a major issue. These organizations do not have the skill, knowledge or culture to achieve this.
Our research shows that the customer experience is affected by certain "orientational" areas. An organization can be at different stages in each of these areas.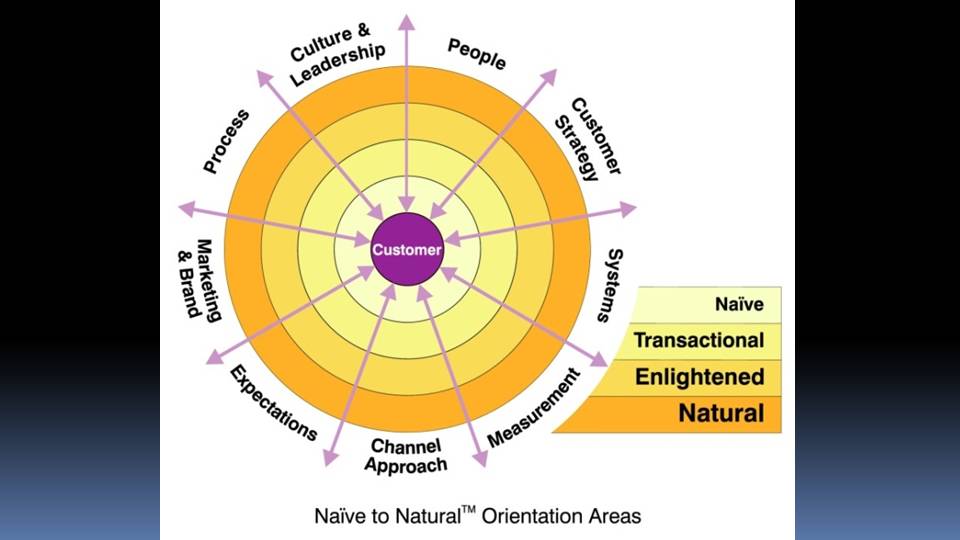 These areas include the type of people you recruit, the measurements you have in place, the process, leadership and culture, etc. – all affecting the customer Experience. You should consider the journey from Naïve to Natural to be an evolution; in fact each orientational area is an evolution. Therefore, you can be Naïve in measurement but Transactional in people.
The challenge is where are you today and where do you want to be? Let me be clear, we are not saying you must be a Natural organization; you can make money from being Naïve and Transactional. What we are saying is you need to determine where you are today, you need to understand what Natural means and then make a decision about where you want to be.
To discover this we undertake detailed organizational assessment. Based on ten years of experience, here are some insights for building a customer-centric organization:
1.  Make Sure You are Serious
It is vital to define if the organization is serious about changing their experience or are we just joining the pack of companies saying we are focused on the customer, but are not really. The actions of senior executives, not their words, will tell you if they are serious or not.
2.  Improve Corporate Executive's Understanding of Customer Experience Concepts
The biggest revelation is that your senior leadership think they understand what a customer experience is about, but the reality is they probably don't. In our assessment we specifically assess the senior leaders understanding of the subject. Invariably the senior leaders understand, in part, what they need to do but they do not have the complete picture. We have never found they understand what it takes to be a "Natural organization." This is a major issue. It means the senior leaders are limiting their company's progress as they cannot lead them into a place they do not realize exists.
3.  Implement Customer Experience Councils
Organizational silos can breed a product or functional view of customers. It is critical everyone in the organization pulls together to look at what is good for customer. Putting in place customer experience Councils where the end-to-end experience can be reviewed helps breaks down these barriers.
4.  Change Your Measures
Measurement always lags behind. Many organizations find it difficult to change measures. Moving to a focus where customer measures account for 20-40% of people's bonus is normally met with a great deal of resistance, yet this is crucial in any customer experience change.
5.  Design Emotional Engaging Experiences
Most organizations are transactional. They focus solely on the rational aspects of the experience. We know that emotions account for over 50% of a customer experience and yet this is ignored by most organizations. Only a few companies are now embracing the emotional side of the customer experience and that they regard this as a key differentiator.
Sometimes it just takes a little while for people to catch on!
I hope these insights are of some help. Oh, one last thing. Let's hope that any Ostriches out there are from your competitors and not your corporate executives!