Inspiring Tomorrow's Leaders Today
Many studies document the Boomer exodus from business and industry.
Albeit some Boomers may be reevaluating their time line based on the economic changes, but there is no question that a high percentage of the 77.5 million Boomers will be vacating corporate America in the next five years. (Study conducted by AARP-2008)
56% of business and industries' Boomer population hold leadership positions. Conversely, there are only 46 Million Gen X and Gen Y's to take the place of those vacating Boomers. These numbers reflect why business and industry need to be so concerned about brain drain and develop a strategy to combat it.
A recent report conducted by OI Partners state that 54% of companies surveyed said they did not have enough qualified candidates working for them to succeed their executives and managers and 14% weren't sure if they have enough leadership successors in place. The survey included responses from 212 primarily large and mid-sized employers throughout North America.
The luxury of time is gone. Organizations must get prepared and begin implementing a leadership succession plan. Having prepared leaders at all levels of an organization is a management strategy and a competitive business advantage. Organizations achieve sustainability and growth through their leadership and the quality of that leadership. The important skills necessary to lead a company to succeed in the upcoming years will be different. In addition to being able to lead people, new leaders will need to plan strategically, inspire commitment, and manage unyielding change. However, to be an effective leader takes much more than skill. It also requires the appropriate attitudes and behaviors. There are many tactical skills of leadership, but without the appropriate attitudes and behaviors, the skills are almost meaningless. We talked in a previous Newsletter about how actions speak louder than words.
It is difficult to inspire commitment in a team when the leader's body language, tone of voice, and behaviors reflect something entirely different.
Managing change becomes very difficult if a leader's attitude is "this too shall pass." In order to manage unyielding change, a leader needs to be aggressive, innovative, and responsive. And yes, it takes certain skills to be aggressive, innovative, and creative, but success in these areas requires the right attitude equally as much as the right skills.
In working with clients to develop their leadership bench strength we have found the following formula works extremely well: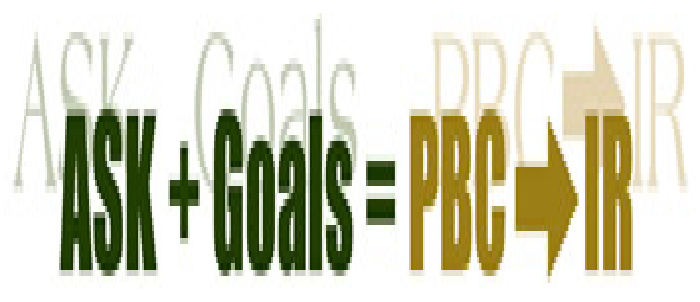 In order for your business to achieve Improved Results (IR) there needs to be Positive Behavior Change (PBC). We have found a successful way to achieve Positive Behavior Change (PBC) by customizing a process unique to the client that addresses the needed Attitudes, Behaviors, and Skills (ASK) combined with a Goal Accomplishment (Goals) model that drives Positive Behavior Change (PBC) which leads to measurable and improved results.
As your organization develops future leaders for your organization, ensuring a solid base of leadership skills becomes important.
What attitudes and behaviors do you want people in leadership roles to exhibit?
What messages do you want them to send when they are not talking?
What example do you want them to set when no one is officially watching?
To identify a true leader, observe his/her behavior and attitude as it will tell you a great deal more than an evaluation of their skills.